Where to Find Business Cards for Less
We help you save on on cards from VistaPrint, OverNightPrints, and more.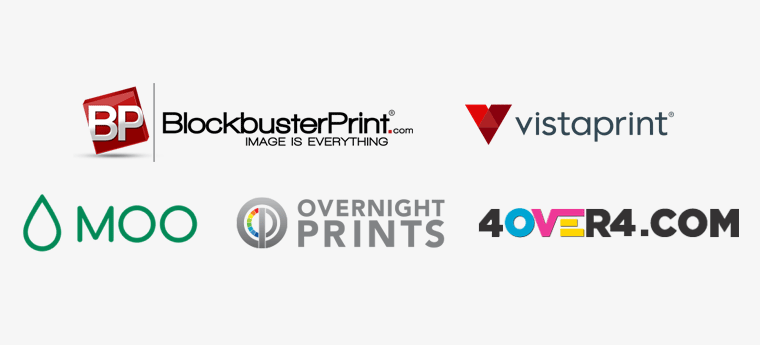 Most marketing tools have gone digital, but one piece of paper that'll never turn to ones and zeroes is the business card. As old-fashioned as the handshake, the card exchange is an essential step for building up your business network. But what if you could get them for less?
Request Funding Today*
By clicking "Get Started", I consent and agree to the
Privacy Policy
and
Terms of Site Use
.
*By filling out the form above, you will be routed to Lendza's funding request form.
We've searched the web to find legitimate offers for business cards. Here are the deals we liked the most.
Best Business Card Offers
Sample Pack from MOO Print – Sample MOO's premium line of paper stocks, finishes, and design accents with 10 free MOO print business cards. Sure, the 10 cards won't get you very far (your name won't even be on them), but it's an excellent way to try before you buy. The best part is this offer doesn't require you to pay for shipping.
300 Free Business Cards from 4OVER4.com – This offer is hampered by a mandatory "Free by 4OVER4.com" stamp on the back of each card. Still, you get 300 cards for just the cost of shipping. Or, there's an option to pay a little extra and the get the cards without the 4OVER4 branding.
500 Business Cards for $9.99 from VistaPrint.com – Use coupon code "CPBC500" to knock down the price for 500 VistaPrint standard business cards to just $9.99 (originally $19.99). That same coupon code will gain you savings on the signature and ultra-thick options as well. If you aren't a graphic designer, VistaPrint offers an economical solution for customizing the cards. For an extra $5, VistaPrint's specialists will add your design or logo to the card.
50% off Fat Business Cards from OverNightPrints.com – "Fat" business cards from OverNightPrints feature 34pt card stock, which is about as thick as a credit card. They will cost you about 10 times as much as the standard option from VistaPrint, but if having the thickest business card in the stack is important to you, you can get them for 50-percent off right now and pay $114.14 for 500.
30% off Basic and Premium Cards from BlockbusterPrint.com – You can get 500 medium thickness cards (about 16pt) from BlockbusterPrint.com for $20 (regularly $37) during a sale that's going on right now. We'd never heard of this company before but were impressed by the clientele featured in the site's testimonial section, which includes positive reviews from Hewlett-Packard, NASA, Arm & Hammer, and Whole Foods.
How to Use Your Business Card
Here are some tips on how to get the most out of your business card:
Always try to have some on you. They're not just for trade shows, as you never know when you'll meet a potential client. Look for opportunities by attending social events where you might find new clients.
If you have networking partners, make sure they have a steady stock of your cards on hand. And remember, any complimentary businesses you visit could be a potential networking partner. So, ask if you can leave a stack of your business cards on the front desk.
When you hand out a business card, try to write something extra on it like your personal cell phone number. This will increase the chances that they'll hang onto your card.
You'll be surprised how fast you power through 500 business cards. So try to keep tabs on how many you have left and be sure to replenish them before you run out.
Pro Tip: Don't order too many cards at once. You never know when you'll need to update your phone number, job title, email address, company logo, or something else that'll make your old cards outdated.
What to Remember When Designing Your Card
The design on your card is important because it sets the tone for how a customer will perceive your business. For instance, a sleek, technical design might be smart for a technology company.
Remember that most business cards get thrown away. If you want yours to be held on to, then make the card serve an alternative purpose. It could double as a coupon, a ticket to an industry event, or something else you think your client would use.
You can use QR-Code-Generator.com to create your QR code for free. These are square-shaped designs that can be scanned by a smartphone to retrieve information. If you place one of these on your business card, a potential client can scan the code and have all your information instantly added to their phone.
If you include a piece of industry-related trivia on your card, it will serve two purposes: First, it will draw the customer in and get them thinking. Hopefully, it will spur a conversation about what opportunities you may be able to provide.
One Piece of the Puzzle
You went to all that trouble to meet a potential client. So, how can you make sure they remember you? It's not enough to just give them your business card. No matter how much time you spend on the design, it's still just a card with your name on it.
Consider these points to get the most out of your networking efforts:
Make a good first impression and be professional, confident, and engaging.
Get your elevator pitch in before you say goodbye. You might only have a couple of minutes to connect, so you'll want to explain what you offer sooner rather than later.
When you hand over your business card, make sure you get one back.
Don't wait for them to contact you. Reach out with a quick recap of your conversation. Your message should show how you help your clients achieve their goals. Personalize the message with the information you gathered during your initial conversion with them.
Make a calendar reminder, so you remember to follow-up with them later.
We hope this information helps you take your business card efforts to the next level. Another way to improve your business is with added working capital. We can help you find funding. Just fill out our brief questionnaire and we'll try to pair you with one of the trusted financing providers in our network.