Announcing the "Better Than A Loan" 2017 Scholarship Winner
John Ramey hit it out of the park with his essay on how a small business can compete against a major chain.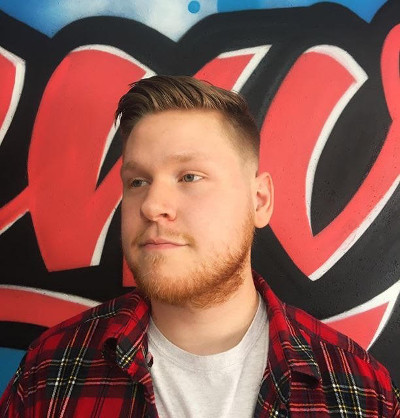 Thank you to college students everywhere for the top-notch essays you sent in for our "Better Than A Loan" scholarship. It was hard to pick just one winner, but John Ramey made it a little easier by knocking our socks off with his powerful submission.
Here's what we asked last year's applicants:
Describe a strategy a mom-and-pop shop could use to compete against a big box retailer that has recently opened in its community. In this imaginary scenario, the mom-and-pop shop is an independently owned pharmacy and soda fountain. The big box retailer has a pharmacy and a fast food restaurant, and it also sells a variety of consumer goods, including electronics, clothing, grocery items, home furnishings, etc. Your plan should show how the mom-and-pop shop might avoid going out of business despite this serious competition.
Applicants were required to submit a 500-word answer, as well as a Twitter-sized elevator pitch. Since our legal department insisted that we couldn't force every applicant to sign up for a Twitter account, we offered an alternative option where you could enter a 140-character version of the idea at the top of the essay.
Here was Ramey's Twitter-sized (though un-Tweeted) response:
"How A Mom and Pop Shop Gained Notoriety For Going Cruelty-Free and Vegan"
The essay explored the imaginary journey of a struggling mom-and-pop pharmacy that transformed itself into a thriving specialty market for cruelty-free and vegan products, starting when the owner, Mama Pop, discovered how many products in the pharmacy contained animal products, following her as she developed and implemented a plan to stock only vegan and cruelty-free products, and finally reaching the happy conclusion: "The Moms and Pops will stay in business for years to come by keeping up with trends and inspiring a healthier shift in awareness."
Ramey's captivating story-like prose set the essay apart from other entries. It was our privilege to ask him a few questions about his essay and his life. Here's our conversation.
How did you first hear about Lendza's "Better Than A Loan" scholarship?
I used Fastweb. It gathers all the scholarships. I did about six, and this is the one I received. The other ones didn't require an essay, though.
I was really interested in the topic given for the scholarship. You were able to personalize it for your own beliefs and ethics. Better business practices, especially with keeping small businesses active and especially in the vegan market, is something that I am interested in.
Your plan for the mom-and-pop store was very detailed. Can you tell us a little about where that came from?
I was basically thinking about where I live – in a very rural place in Alabama. We kind of have to drive an hour or an hour-and-a-half to go somewhere where you can find vegan-friendly supplements or things of that nature.
It would be nice to see a grocery store, or a regular little convenience store, figure out a way to market to that merging community. My friends are primarily vegan. It's something that is steadily growing, especially within the last five years.
In my essay, what I was trying to do was figure out how someone with a convenience store might look at what was being sold and think maybe I should look into this, revamp everything, and try something new. I wanted a happy ending, so I looked for a way to make it work.
Have you given any thought to starting your own cruelty-free and vegan store?
I have thought about what it would be like. I'm not really interested in that. I'm more on the education side of things. I'd rather talk to people or offer more activism through writing. I do have a lot of friends who want to start up their own vegan restaurant. I have a friend who is actually going to culinary school to have the understanding to start her own.
We had one store (not where I live but a few cities over) that closed within a few months. I feel that finding ways to make things cost-effective is probably going to be what makes someone successful.
What is an important trait for a small business owner to have these days?
Grace under pressure. I think there's a pressure to cut corners or give in because typically the things that are mass produced or easier to get are items that have been tested on animals. If it's their value to be cruelty-free and vegan, they need to stick to their values.
How confident are you that your plan would work for the mom-and-pop shop?
I think I would be more confident if it were a more wide-spread lifestyle, but I think that it can be if there were more businesses who kind of brought that to people's attention. I have people in my family who the second I say I'm making tofu are like "Oh no." Because, if you haven't been around veganism or the ideas of animal cruelty, then it hasn't been normalized in your brain to think about those things. We as a society have to make it normalized.
In rural Alabama, we have a lot of chicken plants, so it's kind of in people's brains. If it's something that has been a part of your life for so long, like raising animals for slaughter, then it's so normal.
What is your major? What do you plan to do after you graduate?
English Literature. I plan on going to grad school in the fall. I plan on becoming a community college instructor.
Tell us about some of your other interests and hobbies.
I'm in a band. We are called Eyes on Lips. We released our album about two or three months ago. I have been playing in that band coming up on three years.
Other than playing bass in that band, I also like to do some art.
My main emphasis is writing. I write poetry a lot. I was an assistant editor and then the editor of Athena's Web Journal. We publish student submissions of their artwork.
Another hobby I have is tutoring. I work at the Athens State Writing Center. I love tutoring. About four weeks ago, I was working at Academic Affairs, and this job came up, and it was in my major. I wanted the experience, and I didn't think I would love it as much as I do. I love tutoring.
We have already launched 2018's "Better Than A Loan" scholarship. Do you have any tips for this year's applicants?
My tip would be to obviously apply for the scholarship. I didn't think I would get it. If you have the time, go for it. That's the main thing.
Trust in what you want to talk about, fit the format obviously, and then submit it.