Small Business Loans in North Carolina
What you need to know when looking for a loan in the Tar Heel State.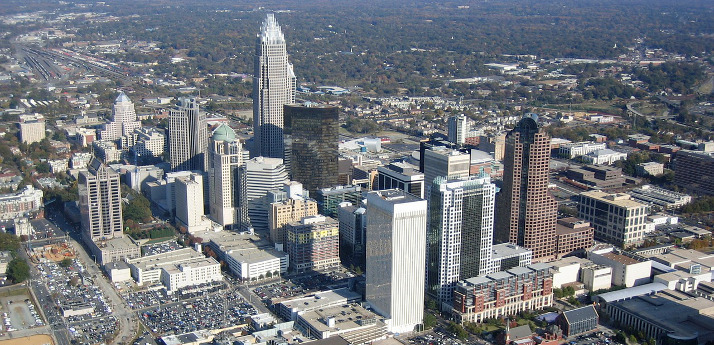 This week the NBA decided to pull the All-Star Game out of North Carolina. We won't comment on the politics, but we wanted to note the economic implications. The NBA's decision is sure to negatively affect many small businesses in the Charlotte area, since the NBA All-Star Game brings would have brought a lot of money into the city via tourists.
Request Funding Today*
By clicking "VIEW FUNDING OPTIONS", I consent and agree to the
E-Consent
,
Privacy Policy
,
Terms & Conditions
.
*By filling out the form above, you will be routed to Lendza's funding request form.
According to the Charlotte Observer, tourism experts have guesstimated that without the tens of thousands of tourists flooding in for the game, the Charlotte region will miss out on upwards of $100 million.
If you own one of the restaurants, hotels, or other tourist hotspots in the Charlotte area, you are probably pretty upset with the NBA's decision. We feel for you. While we can't convince NBA Commissioner Adam Silver to change his mind, we might be able to help you find some funds to help weather the storm.
There is more good news on the horizon. The All-Star Game could be back in Charlotte in 2019. But until then, if you're dealing with a gap in your cash flow, you may need to request some small business funding.
Small Business Loans in North Carolina
Even if the NBA All-Star Game wouldn't have affected your business one way or the other, you may still need an influx of working capital. You may be wondering how this type of funding works in your area. North Carolina business funding is a lot like borrowing money in other states.
There are many different financial products you can choose from. The trick is to find the one that makes the most sense for your company. We recommend investigating options with low APR first. If you don't qualify for those kinds of funding, you'll still have other options available. They just may cost you more in terms of interest or factoring rates.
Economic Insights
Tourism is a major piece of the economy in North Carolina – and it isn't just basketball fans visiting the state. Millions of visitors come to see the Appalachian Mountains, Great Smoky Mountains National Park, and other beautiful sites. The state is known for its beaches as well as its snowy mountains which are home to well-attended ski resorts.
So even without the NBA All-Star Game, North Carolina should still receive plenty of tourists in 2017.
Important Points to Remember About Small Business Funding
A smart place to start looking for funding is at one of your local banks. That's why we want to show you a list of Charlotte's largest banks. Don't worry if a bank loan is not an option for you. There are other ways to get money for your company, which we'll discuss later in this article.
According to BizJournals.com, these are the five biggest banks in Charlotte, North Carolina:
Bank of America Corp. – With only 53 BOA branches in the city, there are actually other banks on this list with more physical locations in Charlotte. But BOA makes up for that with a commanding 70-percent local market share (as of June 2015).
Wells Fargo & Co. – With nearly as much total bank assets as BOA and over 40 more branches, Wells Fargo only gets about a fourth the amount of deposits. It's still the second largest bank in the city.
BB&T Corp. – The rest of the banks on this list combine to make up less than six-percent of the market share. But with 89 local branches in the Charlotte area, BB&T may have a location convenient to you.
First Citizens Bancshares Inc. – First Citizens Bank's website provides an easy to navigate business section with products for equipment finance, SBA loans, online payroll, insurance, and more.
Fifth Third Bancorp – According to some online reviews for this bank, some customers have complained about paying higher fees than they expected while using this bank. It should be noted that all of the banks on this list have received poor reviews at one time or another.
You may also have luck at other local funding providers. If you have already exhausted these options, or if you are looking to save time by getting matched with a provider right now, we might be able to help.
How Lendza Can Help
At Lendza.com, we ask you for a little bit of information about your business, and then we try to match you with a provider that can provide you with the funding you need. This can help you save time, since we'll pretty much be bringing the provider to you.
Consider a Personal Loan
Sometimes small business funding isn't the right fit. Many of our providers don't work with startups. If your company is just starting out, you may have more luck qualifying for a personal loan.
Final Thoughts
It's hard to run a business without money. Ideally, you'd be generating a steady flow of income yourself. But with cash flow gaps all too common in today's economy, sometimes a funding request becomes necessary. We hope you're able to find the funding you need. We'll do everything we can to help you get it.