Choosing the Right Money Transfer App for Your Small Business
We review five of the most popular credit card processing services for receiving money through your mobile device.
Customers crave convenience. Offering them an easier way to pay just makes sense. So here are some of the best reviewed mPOS services for small businesses.
Mobile Credit Card Processing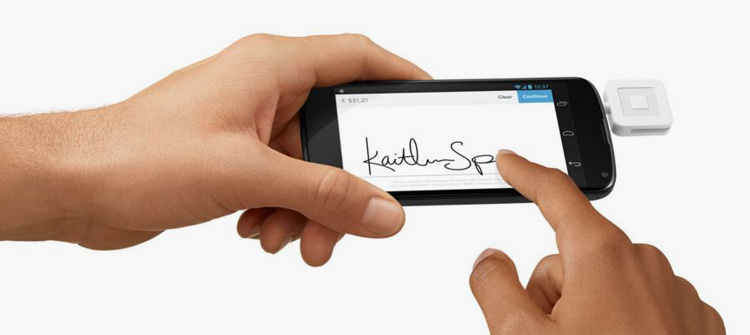 Request Funding Today*
By clicking "VIEW FUNDING OPTIONS", I consent and agree to the
E-Consent
,
Privacy Policy
,
Terms & Conditions
.
*By filling out the form above, you will be routed to Lendza's funding request form.
One of the most popular ways to turn your phone into a credit card reader is with Square. It's also one of the most expensive. Square charges you 2.75-percent for each swiped transaction. If you punch the customer's credit card in instead, you're looking at 3.5-percent plus an extra 15 cents.
Square offers Chargeback Protection. If you receive a chargeback and Square thinks it's not your fault, you can be covered for up to $250 each month. Other services will charge you a chargeback fee upwards of $25, so it's nice to see that Square goes a different direction.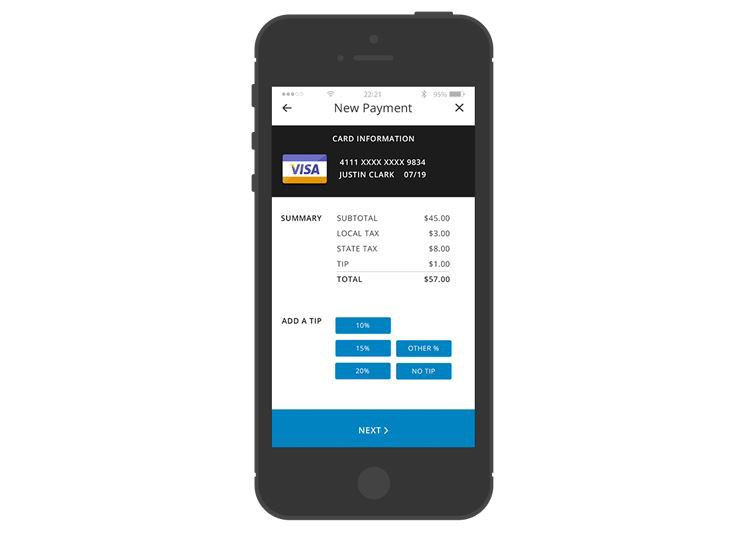 Practically nobody else charges as much as Square per swipe. Yowza charges 1.75-percent plus 25 cents for each swipe. They'll give you a free card reader, which is nice (albeit standard), but they charge you $9.99 a month on top of everything else. You'll pay more if you accept American Express cards. This might be a cheaper option than Square depending on how many credit cards you process each month.
Another solution is QuickBooks GoPayment. QuickBooks offers a "Pay-as-you-go" plan with a 2.4-percent swipe rate and a 3.4-percent keyed rate, both with a 25 cent transaction fee. QuickBooks also offers a free card reader.
You can get lower rates with QuickBooks if you're willing to pay a monthly fee. For $19.95 a month, your swipe rate will go down to 1.6-percent and the keyed rate will go down to 3.2-percent. You'll still be stuck with the 25 cent transaction fee, though.
The QuickBooks option works best for businesses already using Intuit's bookkeeping software. You can link GoPayment to your QuickBooks account and it'll make it that much easier to stay on top of your money.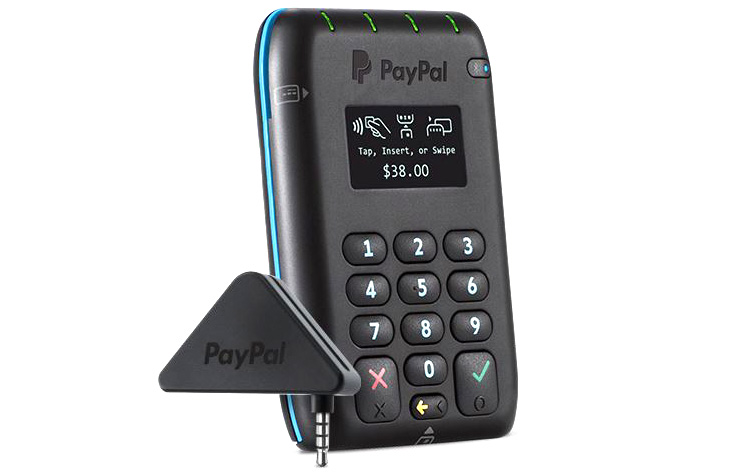 Even PayPal Here is less expensive than Square. PayPal offers a free reader (the first one is free and replacements cost $14.99 – we're not sure how much replacements cost for the other guys, but probably around that much). Their pricing plan is very simple and doesn't require an added transaction fee. You pay 2.7-percent for every swipe. For keyed payments, you're charged 3.5-percent plus 15 cents. PayPal has the added benefit of letting you send invoices. These are priced at 2.9-percent plus 30 cents. You can send the invoice online.
PayPal also offers a chip card reader (pictured above) that lets you accept payments through Apple Pay, chip cards, contactless, and with a traditional magnetic strip. It'll set you back $249, but right now they're running a promotion that knocks $100 off the price if you process $3,000 within three months.
This option works best for businesses already using PayPal in other shapes and forms.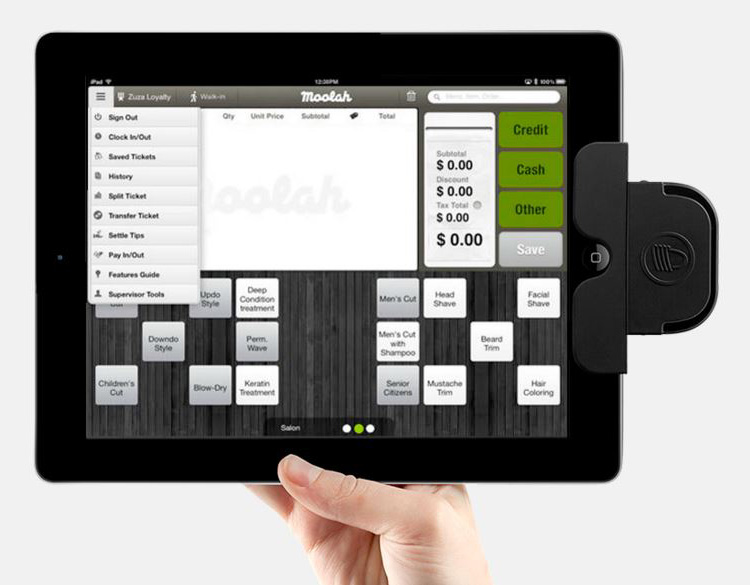 There's at least one company that charges more than Square. That'd be Moolah. oThey charge 2.89-percent plus 29 cents for every swipe. Moolah's merchant account comes with some free extras, olike an iPad point-of-sale application (but a free app is pretty standard for this type of service). oDepending on how many of the free features you end up using, this option may actually make the most sense, oeven though it's most expensive one on the list.
o
For our money, these are the five best options available for mobile credit card processing. oThere are plenty of other similar services out there. Most of them will also provide you with a free card reader, oa free app, and competitive pricing.
o
Time to Funding
o
One of the most important features you should look at when choosing a money transfer app for your small obusiness is how long it'll take the funds to reach your account. Here are some ballpark figures we dug up oto get you started (please note that the time to funding can vary based on a number of factors, oincluding your bank, so take these numbers with a grain of salt):
o
o
Square offers multiple funding options. You can get your funds immediately with a minimum odeposit of $50. In some cases it can take one to two business days. If a custom schedule would work obetter for your company, they can arrange that for you.
o
With QuickBooks GoPayment, funding usually arrives in two to three days.
o
Yowza funding can take anywhere from three to five business days.
o
Paypal Here transfers funds directly to your PayPal account. Because of this, othe funding can be transferred instantaneously.
o
Moolah funding takes about two days.
o
o
Final Considerations
o
Before you choose a money transfer app for your small business, please take the time to double-check othe numbers. We did a good job making sure this information was accurate at time of publication, obut numbers change fast in the digital world, and there's a chance that these companies already charge omore or less than what you see here.
o
Here's a quick review summary for each of the products we reviewed about above:
o
Square o( ) o– The most well-known product isn't always the best fit, but there are a few benefits that come with popularity – olike the comfort of knowing Square isn't going anywhere anytime soon. The CEO, Jack Dorsey, has a net worth of over $2 billion. oThe company recently went public and just posted its first earnings report, which showed oa o49-percent increase in revenue. Combine company strength with intuitive software, and Square seems like a good choice.
o
QuickBooks GoPayment o( ) o– Intuit doesn't make bad products. It's why they've ruled the bookkeeping software market for over 20 years. oIf you're a small business, chances are you already use QuickBooks. If that's true, it just makes sense to add oGoPayment to your financial arsenal.
o
Yowza o( ) o– It's a little troubling that when you Google search "Yowza" this company doesn't come up on the first page. oWhile we were writing this company, Yowza showed up on page four. Still, the pricing is good, customer service is responsive, oyour account will be cloud based, and if you search "Yowza Merchant" it comes up a lot higher.
o
PayPal Here o( ) o– PayPal Here conveniently connects to your PayPal account, but it definitely feels like this mPOS is PayPal afterthought oand not a major focus for the company. You still get reliable software and the confidence of knowing you're working with a major company.
o
Moolah o( ) o– While Moolah's pricing looks steep, it's more reasonable when you consider that the swiped rate is the same as the keyed-in rate o(which is nearly a percentage point lower than other keyed-in rates on this list). Combine that with very decent customer service oand you have a formidable option with Moolah.
o
A word of warning: if you decide to go with an mPOS company you've never heard of before, you should do a decent amount of oresearch to make sure the company is legit. You don't want your company's financial information to fall into the wrong hands.
o
Adding a credit card payment option for your small business is a lot easier than it used to be. But you'll still need to opick a company to work with. We hope we've helped you narrow down your options. If you have any questions about this important decision, oplease feel free to reach out. We're happy to help.