BlueVine Business Loan Review
We dig into BlueVine's invoice factoring and freight factoring service to see if it's a good solution for business funding.
Loan Advice
Best Practices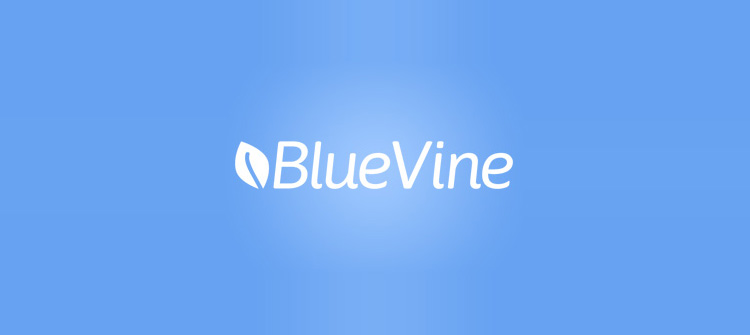 When you need cash but your customers haven't paid you yet, you may need to turn to invoice factoring, which can be used to get an advance on outstanding invoices. This is sometimes referred to as accounts receivable financing, and it's one of the two major services offered by BlueVine. This is our BlueVine review.
Request Funding Today*
*By filling out the form above, you will be routed to Lendza's funding request form.
Before we get into our feature-by-feature breakdown of the product, let's look at what BlueVine offers:
Credit lines from $5,000 to $250,000
30-day rates starting at 1.2%
Advance rates from 85% to 90%, plus $15 per wire
No need for paperwork
Funding in as soon as one day
Customer service help at (888) 452-7805
Those are the biggest features and the main selling points for the product. But let's dig a little deeper.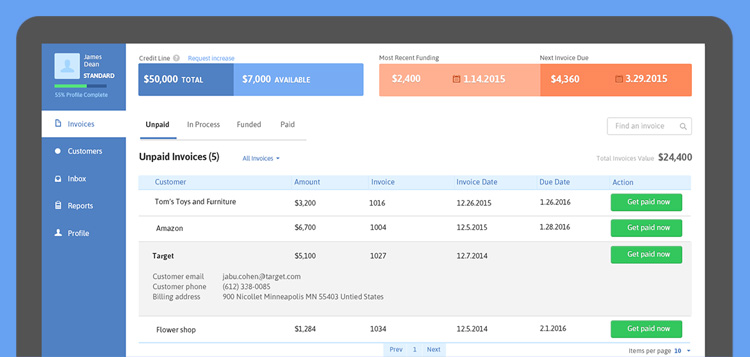 How BlueVine Works
BlueVine syncs with your invoicing software and makes it easy to pick and choose the invoices you want to fund. Unlike other factoring services, BlueVine advertises "no reserves, no minimums," which means there's no reserve or volume requirements.
Here's a basic outline of how to use BlueVine:
You use your own accounting software to choose which invoices you want BlueVine to fund you for.
After you select the invoice, BlueVine sends you 85% to 90% of the value.
When your client eventually pays, you get the remaining balance of the invoice, minus BlueVine's fees.
Your client remains unaware of BlueVine's involvement throughout the entire factoring process, and you shouldn't ever need to mail or fax in your original invoices.
BlueVine's Fees
So how much does BlueVine cost? To start, BlueVine charges a $15 wire fee. We've seen other companies charge up to $25 for this. So, $15 is definitely on the lower side. We can't put an exact number on the total percentage taken from your invoice, but some customers see around a 1-percent discount fee per week on each invoice. The sooner the invoice gets paid, the fewer fees you'll end up paying.
But it's what the company doesn't charge you for that's really impressive. Here are the fees you don't have to pay:
Monthly service fee
ACH fee
Check processing fee
Credit check fee
Application fee
It's nice to see an invoice factoring company not require these fees.
Application Process
If you already have a QuickBooks account in place, you can connect it to BlueVine in a couple of clicks. Otherwise, you can open a free account in a few minutes by filling out an application. There are some required fields that you should know about:
Business name
Tax ID/EIN or SSN
Your first and last name, as well as other personal information like your address, phone number, and Social Security Number.
Here are some other requirements you should be aware of:
Your company will need to be based in the U.S.
Your will need to work with U.S. clients.
You need to use QuickBooks, FreshBooks, or XeroXero to do your accounting.
The application process can take little longer if you have to go through the "Alternative Verification" method. This will require you to upload a picture of your driver's license and a recent utility bill.
Customer Service
After you've signed up, chances are you'll be pleased by BlueVine's customer service, which is prompt, exhaustive, and ultimately very helpful. You can also reach out for help before you get on board by calling the company's help line or shooting them an email through a Contact Us popup on bluevine.com/invoice-factoring/.
Site Safety
BlueVine features three important seals on its site: McAfee Secure, Inuit Certified ProAdvisor, and BBB Accredited Business. The BBB has given the company an A- rating. According to BBB, BlueVine received one customer complaint in the last three years. The issue was addressed by the company and the complaint was closed. The complaint had been about a billing and collection issue.
Customer Reviews
At the time of this writing, BlueVine has received 125 reviews on TrustPilot.com for an average score of 9.6 out of 10. We read through the reviews and noticed a pattern. Here's what people liked the most:
Short, easy application process
Friendly customer service in the form of a personal representative
Quick funding
Transparent fees
Here are some of the negative comments we noticed:
Fees can be a little high
Initial time to funding can take longer than expected
Communication can be slow at times
Syncing can involve technical issues
Many of the customer reviews seemed to be from young businesses. At least one admitted that they would have had trouble getting a loan from a bank because their company had been around for less than two years. Still, BlueVine has worked with notable businesses, including Best Buy, Office Depot, Verizon, Walgreens, and more.
Line of Credit
For businesses that don't have invoices, BlueVine also offers a business line of credit. Interest starts at 6.9-percent. For more information on how this type of small business loan works, please see our business line of credit page.
The Cost of Severed Ties
In the event that you wish to stop working with BlueVine, you won't have to worry about termination fees. The service is easy to turn off and you won't be punished for leaving (unless you leave behind an unpaid bill, we assume).
In our eyes, this is one of the company's best features. Remember, just because you need this service today, that doesn't mean you'll need it in even a month's time. You don't want to be locked into an accounts receivable funding contract that won't make sense in the future.
Final Thoughts
For young businesses with invoices, BlueVine is a great a fit for fast funding. This is assuming that you've done your homework, though. There may be better loan options that'd cost you less in the long run. But as long as you know that invoice factoring is the solution you're looking for, you will likely have a good experience with BlueVine.