Where Brick and Mortar Still Beats Online Prices
While you usually pay extra to shop local rather than go online, some items tend to cost less when you buy them in-store.
Smart Savings
January 18, 2017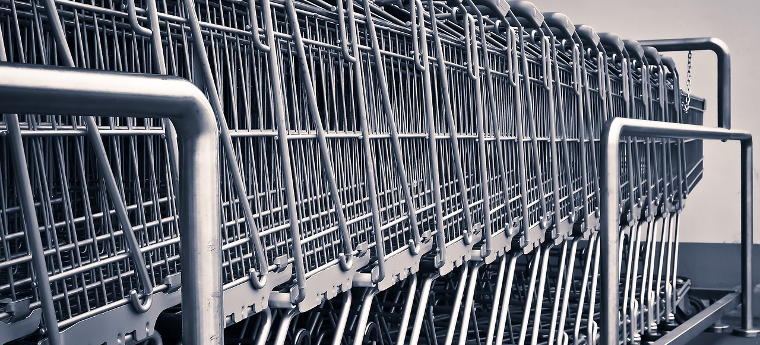 Most of the time you save money by purchasing items online. But what about when that's not true? It's true that some of your business supplies may cost less at a physical store. As you work to cut expenses in 2017, consider brick and mortar for these purchases.
Request Funding Today*
By clicking "VIEW FUNDING OPTIONS", I consent and agree to the
E-Consent
,
Privacy Policy
,
Terms & Conditions
.
*By filling out the form above, you will be routed to Lendza's funding request form.
According to our research, there are times when you may be able to find a deal when you shop for the following items in-store. But please note that this isn't always the case, and there are times when you may be able to find these items for less when you shop online.
Groceries
When you're restocking your break room, you should almost always shop at your local grocery store. Shopping for groceries online is expensive. You'll pay more for the groceries themselves, and then you'll get hit again on the shipping charges.
Sure, gas isn't cheap (and it isn't as convenient to go back and forth to the store for what you need), but you can expect to save a significant amount of money shopping in-store for groceries.
Seasonal Items
Now that it's January, you may have noticed some steep savings on Holiday decorations at your local grocery store. These kinds of discounts don't always translate over to the web since online sellers don't always have to free up shelf space for new seasonal items.
Let's break it out by quarter and look at the different products you can save on in-store when you shop the end-of-season sales.
January through March – If your office will need a new air conditioning system this summer, now might be the best time to pick one up. The same goes for winter clothing, golf clubs, and televisions.
April through June – Because the fiscal year for Japanese manufacturers ends in March, the new models start to take precedence in April. That's why early spring is when you'll find great deals on a lot of different kinds of electronics.
July through September – Even if you missed the electronics sales in the spring, you could still save big on computers during the summer. Also, look out for discounts on office furniture.
October through December – Don't wait until the new year to buy new vehicles for your company. You'll save big on cars when the next year's models start rolling out, and that usually happens around October.
A good rule of thumb is to stock up at end-of-season sales for what you know you'll use when the season comes around again.
Printer Ink
Certain warehouse stores will refill your ink cartridges for a small fee. I've seen the cost starting as low as $7.50. That's a lot cheaper than buying new ink. You might be worried about the refilled cartridge leaking, but that has never been an issue for us.
Small Appliances
Small appliances can have big price tags, especially when you shop online. According to a Kantor Retail study, Amazon tends to be 20-percent more expensive than Walmart. If you can brave the crowds, you may save money shopping at a big box retailer for small appliances.
No matter how good the sale looks in-store, always pull out your phone and compare the price online. If you find a better price (and be sure to factor in shipping), try to see if your retailer will match it.
If you're new to comparison pricing, a good place to start is Google. Type in the full name of the item you're interested in, press Enter, and then click on the "Shopping" tab on the top of the page. Google will show you the price of the item at a variety of retailers.
Perfume and Cologne
The worst place to buy perfume and cologne is through a major retailer's website. You won't necessarily save money by going to any store, though. Your biggest savings will be through a discount website or a bargain store that stocks fragrances.
The selection isn't always great at these types of discount places, but what's available can be upwards of 75-percent off the retail price. These kinds of savings can sometimes be worth going with your second or third favorite perfume or cologne.
Getting in the Right Mindset
Before you try to take advantage of any of these savings, you'll need to realize a few keen truths. First, bargains tend to force you to sacrifice. In terms of shopping in-store rather than online, a few of these compromises are overtly evident, such as convenience, selection, and timeliness. Then, the window for finding a good deal is usually small. That means you'll need to stay on top of the sales, which can be time-consuming and sometimes frustrating. Lastly, the money you save really might not be worth the time and energy you put into it.
What this all means is that if you don't enjoy hunting for a bargain, you're probably better off just shopping online and enjoying the convenience that comes along with it.
We hope you're able to make the most out of these tips. Please drop us a line if you have any questions.