How to Save on Hotel Rates
Before you book lodging for your next business conference, find out how to get low prices on hotel accommodations.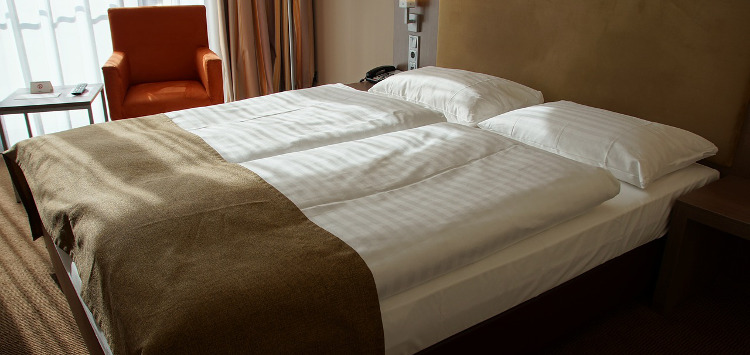 When you're traveling for business, your hotel room is usually one of the most expensive parts of the trip. Fortunately, there are ways to cut those costs. Here are several savings tips for hotel accommodations.
Figure out your favorite chain and stick with them. Most hotel groups offer loyal clients access to lucrative point programs. You can take advantage of this to earn free stays, upgrades, and sizable discounts. To get started, just sign up and use a hotel points program – preferably a free one. (We should note that there are credit cards out there that make it faster to reach elite loyalty status. These cards can be
Request Funding Today*
By clicking "VIEW FUNDING OPTIONS", I consent and agree to the
E-Consent
,
Privacy Policy
,
Terms & Conditions
.
*By filling out the form above, you will be routed to Lendza's funding request form.
Never use "discount sites" or third-party links. You'll almost always find the best rates when you work with the hotel directly. We recommend calling the hotel on the phone and asking for the best rate. Go ahead and haggle because it'll likely lead to a discount. The person on the other end of phone probably has permission to cut your rates, but only if you ask. Don't be too old-fashioned, though – you'll want an email confirmation you can pull up at check-in to make everything go smoothly. Really, this approach should save you more than coupons, offers, and promo codes you find online for the hotel. The best deals are usually always made when you deal directly with the hotel.
Take advantage of your unique situation. If you're a student, make sure to mention it when you're booking your room, as the hotel may have a special discount for students. The same goes for seniors, past and present members of the military, AAA members, etc. A good rule of thumb is that if you're part of something you think may get you a discount, don't forget to let the hotel know.
Get a cheaper room, then ask for an upgrade. This trick works better when there isn't a conference in town, but you still might have some luck with it. What you do is book the cheapest room (which usually comes at a nonrefundable rate). Then try to check in later in the day when the clerk will know which rooms are already booked, and ask if you can get a free room upgrade. If one of the better rooms is available, the hotel might let you upgrade for free.
Commute to the conference. If the hotel isn't offering special deals for conference goers, then check out the rates of nearby hotels to see if they are significantly cheaper. This approach is best done as long before the conference as possible, because once the other hotels catch on that there's a big conference coming to town, they will likely raise their rates, too.
Avoid hidden hotel fees. A great rate can be made a lot less great when the hotel packs on hidden fees. So before you book, ask about add-on expenses, like resort fees, and surcharges for WiFi, early check-in, landscaping, and parking. This will help you figure out what the actual rate will be. It may sound smarter to avoid hotels with hidden costs, but sometimes even with the extra fees, a hotel can be cheaper than similar alternatives. So you should ask questions and do the math before you make a decision.
Don't bundle travel expenses. Hotels will often try to sell you a travel bundle that includes the hotel room along with other parts of the trip, such as airfare, rental car, dining packages, and entertainment options. These "bundled savings packages" tend to cost more than they are worth. Either you pay more for the package than you would if you bought everything separately, or the package includes more stuff than you'll actually use.
Book early. If it's a big conference, then chances are the hotel will hike up the rates as the conference gets closer. But you may get a lower rate if you book early.
Stick to the conference dates. It may make sense to get to the conference early or stay a few extra days to take in the sites. Just remember, though, that practical doesn't mean free. You'll still be paying for the room on those extra days, and the hotel might be pricier than you'd be willing to pay if you'd planned the vacation yourself.
Always ask the conference host if there's a special hotel rate for attendees. When you're registering for a conference, be sure to check and see if attendees get a discount on hotel accommodations. This is a big reason to sign up for a conference early, as rooms may run out. If there's not a special rate already set up, and if you're sending a large group of your employees to a conference, you should ask the hotel if they have group rates.
Summer is a busy conference season for many industries. If you're heading out to one or two workshops in the coming weeks and months, be sure you're getting the best rate on your hotel room.